Gurkha Cigars Review – Best Selling Gurkha Cigars (UPDATED 2019)
As one of the best-known cigar brands in the premium cigars category, Gurkha Cigars are great for those who want to enjoy a handmade smoke. All of their products are made out of the finest quality aged tobacco leaves.
The brand was introduced by Mr. Kaizad Hansotia in 1989 and has become one of the most famous options for luxury cigars in the world. But is the hype really worthy of the premium price?
That's exactly what everyone here at Cigars Haven wanted to find out. So, let us dive deeper into Gurkha Cigars to learn more about their products and whether or not we'd recommend them.
Are Gurkha Cigars Really Worth The Premium?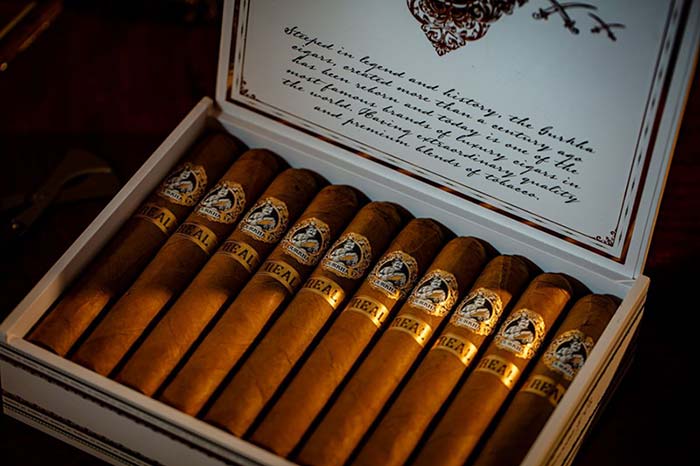 Gurkha offers tasteful cigars in a variety of distinctive and luxurious flavors that are hard to replicate in cheaper sticks—or so we're told. However, there's no denying these cigars are packaged beautifully. In fact, some people actually refer to them as the "Rolls Royce of Cigars". Between the luxurious packaging and upper-scale prices, we'd have to agree with that name.
Catering to an increasing demand, the brand offers different blends of premium-quality cigars to please customers who are looking for a more adventurous smoke. We've been told that Gurkha's cigars are designed in such a way that every puff leaves you craving for more. They satiate your need without compromising on quality.
The company aims to make sure that every user is left completely satisfied after they finish their smoke. The brand currently manufactures 10 million cigars each year and they are sold in more than 60 countries around the world. Each cigar is promised to deliver a lavish smoking experience that's unique in itself.
Not only are they known around the world for offering exceptional flavors, but the packaging itself is almost as renowned. In fact, the boxes are created as a piece of art and many people opt to keep them.
Today's portfolio of Gurkha cigars is much different from what was offered 10 years ago. Newer introductions like Seduction, Ghost, and Royal Challenge are favorites of many today. The current best seller is the Cellar Reserve 15.
You'll be happy to know the company also produces less expensive brands like Wicked Indie and Red Witch without compromising on the signature Gurkha taste. This gives the more casual smoker a chance to try them out as well without having to spend a lot of money.
What Are The Best Selling Gurkha Cigars?
Gurkha has introduced more than 50 unique blends of cigars in the luxury cigar market. Some of the more famous ones include Seduction, Cellar Reserve, Royal Challenge, Ninja, Ghost, Rogue, and others.
We decided to pick up some of the best-selling options for the Gurkha cigars review. These varieties are recommended for those who are looking for a smoking experience that rests on the ritzy side of things.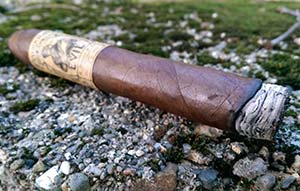 1. Gurkha Evil
Rated high by experienced smokers, Gurkha Evil is a very premium stick that offers a great smoking experience in many different sizes. These cigars provide an array of flavors, and ours was very smooth.
Each puff provided a unique flavor and gave our taste buds something new to processes. The Gurkha Evil we tried for this review delivered a special taste of roasted nuts accompanied by a rich floral finish. It was a very pleasant smoke! This cigar was an exceptional example of the quality Gurkha is known for.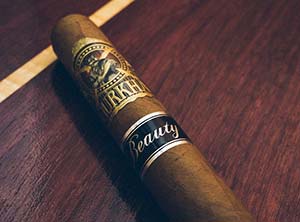 2. Black Beauty Cigar
Next up on the list was a highly enjoyable Gurkha cigar for everyone here in the office. In fact, Black Beauty is still a winning choice for anybody you'd ask here at Cigars Haven!
If you're on the hunt for a premium cigar that will provide a unique smoking experience, give this one a shot. It smells great, and the aroma largely reminds you of an evergreen tree. Each puff delivers a pleasant, spicy that's sure to stun any smoker.
It comes in a beautiful package and looks amazing—though I guess that's about what you'd expect from Gurkha. A large number of Gurkha fans love the feel of this cigar and is an all-time favorite for most who try it.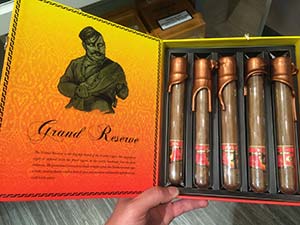 3. Grand Reserve (Torpedo)
Now on to the Grand Reserve (Torpedo shape). This example from Gurkha offers a cigar infused with Cognac and is a unique blend that differs from the standards you'll typically find.
It comes in superior packaging with a brown wrapper and filled with a flavorful blend of tasty, smooth tobacco. The delightful flavor given by the Cognac lasts for the entire smoke. Every puff of the Gurkha Grand Reserve delivers delight and adventure that can only be understood once you try it.
ADVERTISEMENT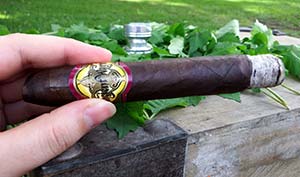 4. Gurkha Ancient Warrior
Handcrafted with perfection in mind and filled with only the best aged tobacco leaves, the Gurkha Ancient Warrior cigar is introduced to offer a special smoking experience to even the most fanatic Gurkha fan.
This stick provided us with a unique combination of rich and creamy flavors, along with some subtle hints of spice that balanced everything out wonderfully. It was very smooth and despite being a mild cigar the flavor was great the entire time.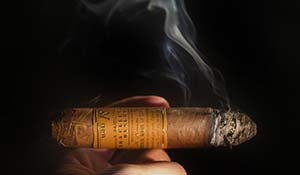 5. Gurkha Cellar Reserve 18 Yr
Finally, we come to the Cellar Reserve. This is a strong cigar that's high in quality and properly illustrates the unique cigars that Gurkha offers.
The Cellar Reserve 18 Year features a Corojo Colorado Maduro wrapper around a blend of Nicaraguan and Dominican tobacco. It gives earthy and barnyard notes, and this cigar is no exception when it comes to the glorious packaging.
You'll find that this particular stick is extremely smooth. With each puff you'll experience no after taste. The smoke is rich and, if we're being honest, the only thing you'll be disappointed about with this particular cigar is when it's burned your fingers and you're forced to put it out.
Gurkha Black Dragon Review – Limited & Delightful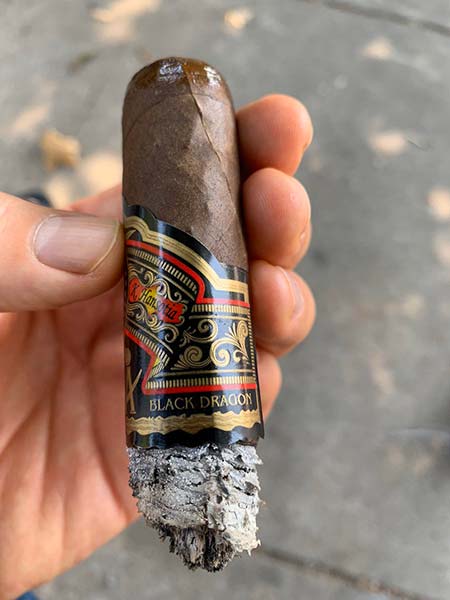 Despite being a limited edition from Gurkha, the Gurkha Black Dragon has made a name for itself in the world of cigars. Between the limited run and a unique flavor profile that's absolutely wonderful and distinct, it was easy for us to see why the Gurkha Black Dragon is one of the most difficult to find cigars today.
This cigar features a high-end blend of premium tobacco aimed at pleasing the most demanding of cigar smokers. Our stick offered a blend of earthy and sweet flavors, along with a bit of spice. The medium to bold flavor profile and even burn through the end are some of the main things that stood out most.
The Black Dragon cigar comes with a wonderfully aged Connecticut Broadleaf Maduro wrapper and a blend of 5-year aged Dominican filler and aged Cameroonian binder. These smokes come packaged in frosted glass tubes that are themselves in a velvety box for a beautiful presentation. If you're a fan of full cigars, then give this one a taste—though be prepared to pay for it.
What About The Gurkha Ghost Cigars?
When you're doing a Gurkha Cigars review, you can't leave out the Ghost—one of the most popular Gurkha's. It's medium-bodied, rich, and chocolaty flavors land it a spot among out favorites! It's definitely a sleek, alluring cigar that any connoisseur needs in their collection.
The Ghost series of Gurkha cigars features a dark Brazilian wrapper. It contains aged and carefully picked tobacco from the Dominican Republic. It's famous for its complex blend of flavors like hints of cinnamon and cocoa, both of which were present in ours.
The profile consists primarily of sweet and earthy tones. It is rolled using a proprietary blend of select Nicaraguan and Dominican fillers.
There are four different sizes of Ghost cigars to choose from:
Asura (Toro)
Angel (Torpedo)
Shadow (Robusto)
Exorcist (Gordo)
The Ghost we smoked for this review was the Shadow.
One of the many things making this particular stick so popular is its ability to delight the smoker with consistent flavor from the first to the last puff. This is something we experienced. We're confident in saying this is a cigar that anyone could enjoy from time to time.
Wrapping It Up
Today, Gurkha manufactures over 10 million cigars per year. Their products are marketed and sold in 60 countries across the globe. They've made themselves a king of sort in the world of cigars, and by the end of our reviews it was easy for us to see why.
Their never-ending desire to manufacture the best cigars in the world and provide a great smoking experience for their customers is apparent. The beautiful packaging always used adds to the whole experience of smoking a Gurkha. Though that may seem gimmicky (as we initially thought), it really isn't.
Every cigar we smoked provided a lasting experience and wonderful taste. At first the hype seemed too good to be true with this brand. But, by the end, we were completely sold. So, if you're looking out for an elite brand that deals in exclusive handmade cigars, then you need not look any further than Gurkha Cigars.