Embrace the Dark Side: A Review of the Gurkha Evil
Embrace the Dark Side: A Review of the Gurkha Evil Cigar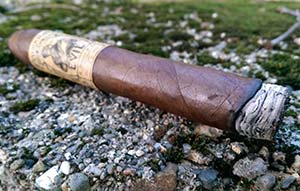 Unleash your inner villain with the Gurkha Evil cigar, a dark and enchanting offering from the house of Gurkha Cigars.
Known for their distinctive and varied blends, Gurkha has once again cast a spell on cigar aficionados with this bold and intense creation.
In this review, we will explore the intriguing depths of the Gurkha Evil cigar, evaluating its construction, flavor profile, and overall smoking experience.
The Gurkha Evil is a medium-to-full-bodied cigar that showcases a meticulously aged Brazilian Mata Fina Maduro wrapper. Underneath this alluring cloak, you'll find a Dominican binder and a complex blend of Nicaraguan long-fillers. Each cigar is crafted with precision and care in the Dominican Republic, ensuring a consistently excellent smoking experience.
Appearance & Pre-light Experience
The Gurkha Evil Cigar is visually striking with its oily, dark chocolate-hued wrapper and an eye-catching silver and black band that aptly features a sinister-looking skull. The cigar's firm construction, with few visible veins and tight seams, hints at the quality that lies within. Upon closer inspection, the aroma of the unlit cigar reveals a mix of sweet cocoa, earth, and leather.
Upon lighting the Gurkha Evil, the initial puffs are bold and robust, featuring a mix of dark chocolate, black pepper, and earthy flavors. As the cigar progresses, subtle notes of espresso, leather, and a hint of dark fruit emerge, creating a multi-layered experience that is both complex and satisfying.
ADVERTISEMENT
The second third of the cigar sees the pepper notes mellowing out, making way for a delightful interplay between the cocoa and coffee flavors. Here, a touch of cedar and a light sweetness join the profile, adding to the Evil's intriguing complexity.
In the final third of the cigar, the strength ramps up, and the flavors intensify. The earthiness and leather notes return to the foreground, while the sweetness and cedar become more subdued. Throughout the entire smoke, the Gurkha Evil cigar maintains a perfect balance of flavors that leaves you wanting more.
The Gurkha Evil cigar boasts an even burn line and a solid ash that holds on well past the one-inch mark. The draw is consistent and smooth, with just the right amount of resistance, allowing for a leisurely and enjoyable smoking experience.
The Gurkha Evil cigar is a sinister delight that is sure to captivate even the most discerning of palates. With its dark and rich flavor profile, exceptional construction, and attractive appearance, this cigar will undoubtedly leave a lasting impression. Whether you're a fan of Gurkha cigars or simply looking for a bold, flavorful smoke, the Gurkha Evil is a temptation you won't want to resist.
You might also be interested in our Top 10 Most Popular Gurkha Cigars article.