Arturo Fuente 858 Maduro Review
Even the brand new cigar smokers have likely (at the very least) heard of Arturo Fuente, and maybe even had a few of their stogies. This is for good reason! Not only is Arturo Fuente one of the best selling cigar brands in the world, but they're known for combining amazing consistency, affordability, and premium tobacco into every cigar produced.
One of the best examples of this is in their 8-5-8 cigars. More specifically, the Arturo Fuenute 858 Maduro. It's one of those cigars you'll see in every smoke shop you go into, and it's constantly sold out online. But is the hype behind the A. Fuente 858 Maduro deserved?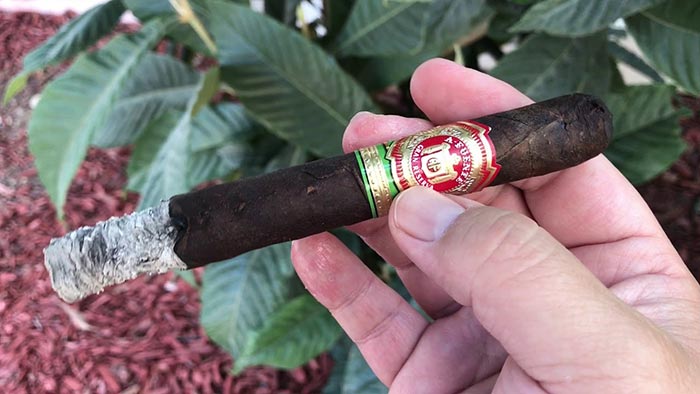 We Loved The Arturo Fuente 858 Maduro. Here's Why:
Like with all cigars, it starts with the wrapper. We loved how the wrapper on the 858 Maduro was very rugged. The texture was nice and there were no soft spots to be felt.
Each puff from beginning to end was filled with flavor. Despite being a maduro wrap, it was mild enough that even a new smoker could enjoy this stick. It's not so mild there's no flavor, yet it's not so full bodied that it's overpowering—the perfect combination.
While each mouthful of smoke had it's own complexity and uniqueness, there was a consistent smooth & creamy flavor while the wrapper was mildly sweet. Notes of coffee and cedar, along with a hint of pepper, combined together to make an experience that will stick in your mind.
The only real complaint we had was an (occasional) inconsistent draw. We had a few cigars wrapped too tight resulting in a difficult draw, but a cigar draw tool fixed that quickly.
ADVERTISEMENT
Some cigars get unpleasant once you're into the last quarter, but that's not the case with the Arturo Fuente 858 Maduro. We consistently were able to smoke each cigar down to the nub with both great taste and cool smoke never failing.
In short, it's very easy to see why most smoke shops stock the 8-5-8 Maduro and why it's frequently out of stock online. This cigar is mild enough that anyone could smoke it, affordable, and consistent in its quality & taste. This is a stick everyone should have in their humidor!